ABOUT KRIS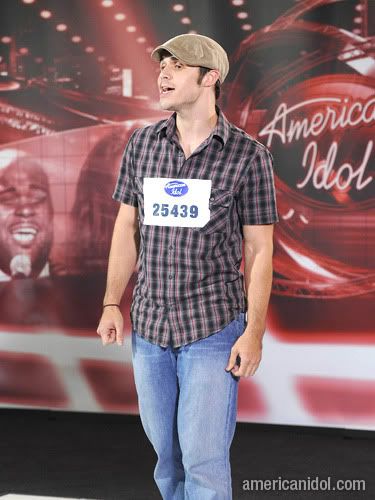 Kris Allen was introduced to America when he entered the popular TV singing contest American Idol. He auditioned in Louisville, KY and made it through to Hollywood after singing Leon Russell's "A Song For You". During Hollywood week, he sang Michael Buble's "Everything" and was also part of the group White Chocolate. The group sang The Jackson 5′s "I Want You Back". Kris then went on to participate in a sing-off against another Idol 8 hopeful. He was ultimately chosen to proceed to the Top 36 round.
With little to no face time at all prior to Top 36 week, it was imperative that Kris make a big impression on Idol viewers. Prior to that week, only a few seconds of his audition was shown on television, and his performance as part of White Chocolate was not aired in its entirety. Kris chose a song by one of his musical Idols: Michael Jackson's "Man in the Mirror". Judge Simon Cowell told Kris that he was proud of him for showing confidence during this performance. Even after glowing reviews from the judges, Kris thought that he would have to bank on the Wild Card round, because he did not think that he would get enough votes to get into the Top 13. He had no need to worry, however, because America voted him into the Top 13.
Soon, Kris would be known for his penchant for flipping popular, classic songs and turning them into contemporary hits. He performed "Remember the Time" during Michael Jackson week and was praised by the judges for being likeable and true to himself. Kris showed a different side of himself when he took on the classic Bill Withers song "Ain't No Sunshine"; this time, he was on the piano. This performance was hailed as one of Kris's first breakout moments on American Idol and he was praised for being original and artistic. One of Kris's dreaded themes while on Idol was Disco Week, but he emerged one of the best of the night with his creative arrangement of Donna Summer's "She Works Hard for the Money". During Movie Week, Kris chose Oscar-winning song "Falling Slowly" from the Once soundtrack. When the original artists, Glen Hansard and Marketa Irglova heard about this, they sent him some gifts as thanks for choosing their song.
It is easy to see from Kris's many performances on Idol how he slowly captured the hearts of America, may it be with his laid-back personality or musical creativity. After delivering one memorable performance after another, including a cool rendition of Kanye West's "Heartless", he went on to be crowned American Idol's season 8 winner. Since then, Kris has gone on a whirlwind tour across the country on the American Idol Tour, while at the same time recording his debut album.
Kris collaborated with many respected artists for his self–titled debut, including Switchfoot's Jon Foreman, American Idol alum Chris Daughtry and The Fray's Joe King. He also worked with some very talented songwriters, including Greg Kurstin [The Bird and the Bee, Jason Mraz] and Lindy Robbins [Kate Voegele, Leona Lewis]. Kris was fortunate enough to have the support of some very respected producers as well, including Mike Elizondo [Maroon 5, Jay-Z], Mike Flynn [The Fray] and Eg White [Adele, Lily Allen]. Kris has described this collaborative songwriting process as something that he had to warm up to, because he was always used to writing songs by himself. One of his proudest accomplishments is having written or co-written 9 out of the 12 tracks in his album. One of the songs on the record, "Red Guitar", was written by Kris before he embarked on his American Idol journey. Another song Kris is proud of is "Is It Over", which was a collaborative effort between Kris and close friend Cale Mills.
Kris released his self-titled debut album on November 17, 2009.  His first single, "Live Like We're Dying", has since gone platinum and peaked at #18 on the Billboard Hot 100 and his album has currently sold a little under 300,000 copies. Since releasing his first album, Kris was nominated for a People's Choice Award (for Best New Artist) and was also a presenter at the American Music Awards. He has been asked to open for respected artists including The Barenaked Ladies, Lady Antebellum, Keith Urban, Chris Daughtry and Maroon 5. Kris also performed during the much buzzed-about Z100 Jingle Ball at Madison Square Garden in December, alongside artists like John Mayer, Jordin Sparks and Taylor Swift. In February, Kris did a mini-tour in Southeast Asia, where he visited The Philippines, Malaysia and Singapore.
Kris has used also his position as an American Idol to bring awareness to a number of causes. Most recently, this has included a trip to Haiti in partnership with the United Nations Foundation. The trip was part of Idols Give Back, and its main goal to raise awareness about the devastation in Haiti after the earthquake. Kris also recently returned from a trip to Rwanda in cooperation with TOMS Shoes. During the trip, Kris and his wife Katy (along with other organizations like Bridge 2 Rwanda), participated in hand-delivering thousands of pairs of shoes for children in need in Rwanda. During the trip, Kris got the privilege to sing for the President of Rwanda.
Currently, Kris is on tour promoting his debut album. His summer and fall tour consists of some solo tour dates as well as opening shows for The Barenaked Ladies, Keith Urban, Maroon 5 and Lifehouse. Kris just released the music video for his second single, "The Truth" featuring Pat Monahan. Kris is currently on tour with Maroon 5 and will commence his fall tour with Lifehouse on October 15.